We chatted with Sean Knotts, Director, Global Ecommerce at Sonos, about the recent site redesign of Sonos.com. Sean shares how Sonos approached the project, what data they used to inform the design, the project's objectives, and some quantitative and qualitative results.
About Sonos
Sonos is the world's leading sound experience company. As the inventor of multi-room wireless home audio, Sonos innovation helps the world listen better by giving people access to the content they love and allowing them to control it however and wherever they choose. Known for delivering an unparalleled sound experience, thoughtful design aesthetic, simplicity of use, and an open platform, Sonos makes the breadth of audio content available to anyone.
What led Sonos to redesign their site?
After the monumental shift and demand towards more digital touchpoints in 2020, Sonos set out to understand how their site was responding to the direct-to-consumer (DTC) channel preference that occurred during the pandemic.
Having previously redesigned their site back in May 2019 with positive results, Sonos wanted to re-assess how effective that framework was in responding to the shift in demand towards DTC as a result of pandemic purchase patterns. They wanted to see if they could further improve their site experience and build on double-digit conversation rate increases they were experiencing.
They decided to dig into the data and do some comprehensive user research. The initial insight? Despite the overall positive conversion rate, Sonos.com wasn't positioning the site journey for prospective customers as well as it could be.
Historically, Sonos.com has been well-positioned for the owner audience (or those who already understand the value proposition on the experience benefits of Sonos). But prospective customers don't have the same context and background knowledge as returning customers. So there was a big opportunity for Sonos to enrich their site with educational and inspirational content for new users.
Key metrics to improve
The cross-functional team that was managing the redesign focused on a few key metrics like declining cart completion rate, declining levels of self-reported purpose completion (measured through onsite exit survey), and countless points of feedback from user testing efforts and a third-party UX audit.
"Users, particularly prospective customers, wanted a better way to browse and compare products. They felt that our product display pages were either scant on education or contained too much marketing fluff. Ultimately, these touchpoints weren't serving their needs. We also learned that our product display pages were our single greatest exit point."
"When we tied this knowledge back to the fact we were receiving declining cart completion rates, we knew we needed to invest in our upper-funnel experiences. We needed to ensure we were setting the right context around helping consumers navigate their consideration cycle at Sonos.com."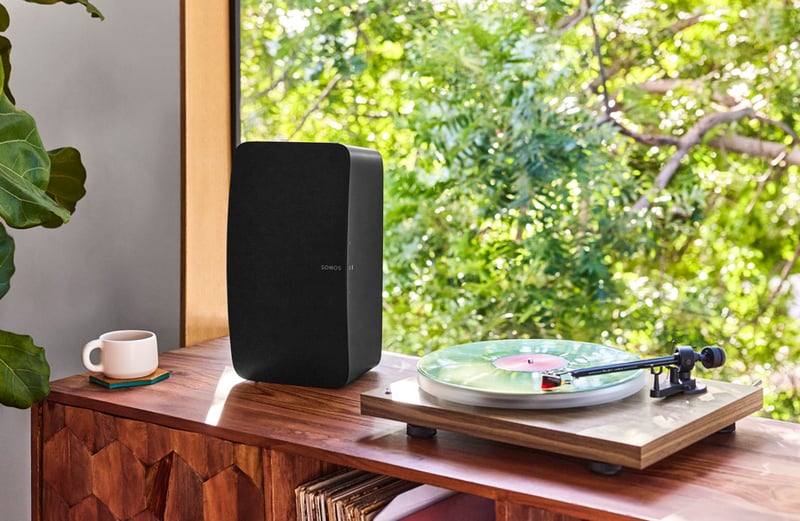 Source: Sonos
What does 'empathy-driven design' mean?
"Empathy-driven design means employing a data-rich approach to understanding how your users interact with your site and what role the site plays in their path to purchase. The concept relates to how teams ensure they're leveraging those insights to understand what your users need."
Sean Knotts, Director, Global Ecommerce at Sonos
"From an experiential standpoint in the eCommerce space, I think there are so many tried and true conventions for how we approach experience design. And we see this play out across our sites and in the market with many eCommerce sites that look nearly identical, with their brand marketing skin applied over the top."
"The data-driven approach, which I really connect to empathy-driven design, is peeling that back a little bit and better understanding the user's needs. I'm not advocating that anyone buck tried and true conventions, but I do advocate understanding your category, knowing exactly how your site translates the nuances of your category into the needs of your prospective customers, and the role your brand experience plays in driving education and consideration."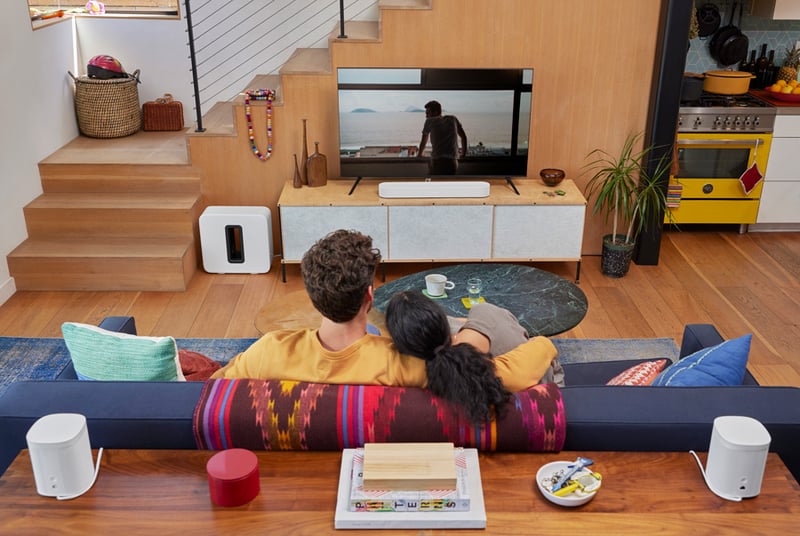 Source: Sonos
How did Sonos use empathy-driven design to better its site experience?
"I'll give you an example," says Sean. "Our previous homepage followed a typical pattern that we often see in eCommerce sites. We had our primary merchandising tout, followed by some category entries, followed by more merchandising zones that were updated seasonally."
However, through user testing, Sean discovered that Sonos' site layout, including the copy and imagery, simply wasn't cutting it for new users. "Our approach assumed that our prospective customers knew more about Sonos than they actually did," he explains.
With this insight at hand, the team took action. "We ended up redesigning the homepage. We started by developing a content framework where we dialed in each aspect of storytelling we knew we needed to hit for prospective customers to understand what Sonos is and why they'd want it," he explains. "Then we picked each asset for the new homepage and ensured they delivered on each part of the story arc."