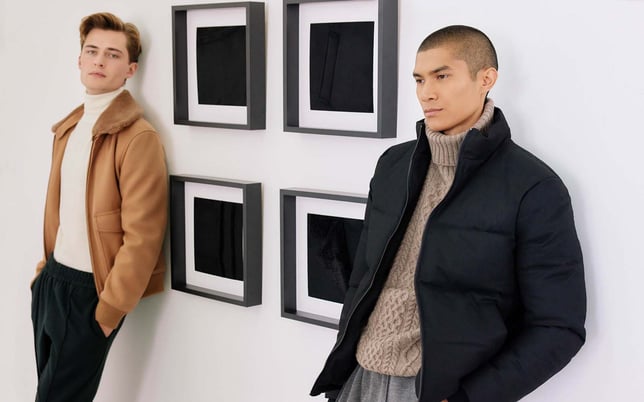 As Head of eCommerce at Moss Bros, Matt Henton knows a thing or two about digital marketing. Having been with Moss Bros for the past seven years, Matt's responsible for everything the brand delivers online. "My job is getting people to visit our website, and crafting digital experiences that support and showcase the products we have and the services we provide," he explains.
About Moss Bros
Moss Bros is the UK's number one men's formalwear retailer. Their mission? To inspire, guide, and help men feel amazing whatever the occasion. "And we've been around for a very long time," says Matt, "Since 1851!"
During that time, Moss Bros has adapted and expanded its services in line with changing consumer demands. In 2022, there are now four parts to Moss Bros' business.
"Firstly, there's our ready-to-wear menswear across both formal and casual wear ranges," explains Matt. "Then we've got our custom-made tailoring service called Tailor Me which allows customers to choose from 1000s of different styling options, fabrics, linings, and buttons to craft their own design."
On top of this, Moss Bros' most famous offering is their hire service. "That's what a lot of people know us for," says Matt. "This offering is very occasion-led, so people hiring for weddings and black tie events—that kind of thing."
And finally, their latest venture: Moss Box, a subscription-based business launched in 2021. "Subscribers can have any two items from a Moss Box collection at any time, swapping them as many times as they like. We take care of delivery and cleaning. And if you love something, you can keep it!" he explains.
Preparing their website for success
With seven years' experience at Moss Bros, plus previous roles including Head of eCommerce at luxury fashion retailer my-wardrobe.com and Marketing Director at parts retailer eSpares, Matt has a wealth of eCommerce knowledge at his disposable.
So how does his team prepare for success throughout the year?
"We're an optimization-focused team at Moss Bros," he explains, "We love getting under the skin of our visitors and analyzing what they're doing on-site. We take pride in uncovering their pain points and finding the areas of friction that are stopping them from doing what they want to do.
For Matt, understanding his customer's digital behavior on the deepest level, then implementing changes to make their lives easier is the name of the game. "We just love coming up with better ways of doing things."
For this, Matt and his team use Contentsquare's advanced intelligence platform to analyze their customer behavior, diving into individual page performance and in-depth customer journey analysis to better understand what their customers are doing. They also feed testing and personalization data from Dynamic Yield into the Contentsquare platform to see how different A/B tests are performing. "We then use all of this data to help craft better experiences for them," he says.