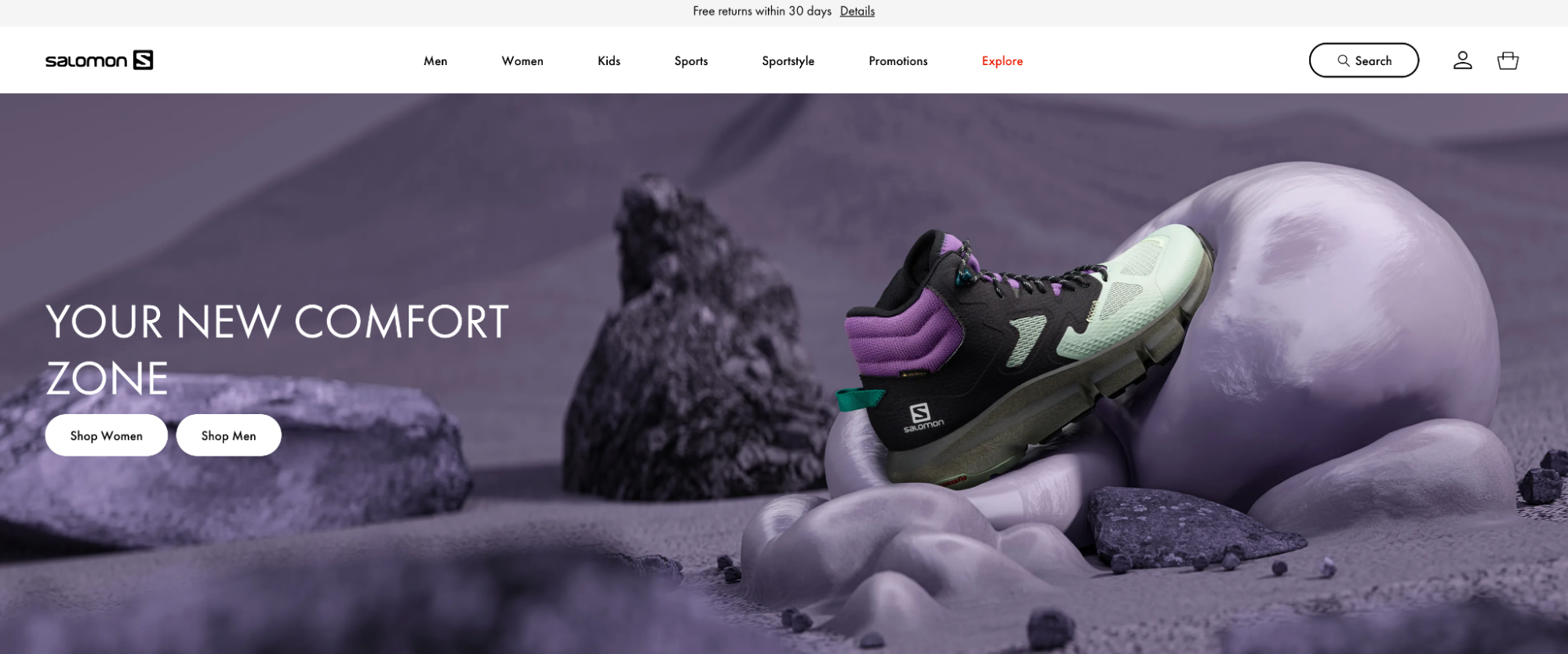 About Salomon
Salomon is a French brand founded in 1947 in the Alps in Annecy. Driven by passion and innovation, Salomon is the world leader in sports equipment, covering winter sports such as skiing and snowboarding, footwear such as trail running, running, and hiking, and a wide range of sports apparel and bags.
What makes Salomon unique is its community: A family of outdoor enthusiasts. Now established worldwide, Salomon sells via its eCommerce site, export partners, distributors, and through its brick-and-mortar stores. eCommerce activity for the brand has grown in recent years, placing eCommerce optimizations and improvements at the center of their priorities.
The challenges facing Salomon's eCommerce team
To better understand the challenges facing the eCommerce team, we met with Marta Sitkowska, Global eCommerce Merchandising Manager, and Thibault Bourret, E-Visual Merchandiser EMEA at Salomon.
Both Marta and Thibault sit within the global eCommerce team; Marta drives the merchandising strategy for salomon.com, coordinating its implementation at a regional level. While Thibaut manages their branded sites across 15 European countries, covering sales events, marketing activations, and projects.
With more than 800 employees in Annecy at their head office, Salomon is sold across the world from North America and Japan to China and Europe. And like many retailers, they launch the majority of their collections online.
Here's what Marta and Thibault had to say about Salomon's challenges and strategy, plus their best advice for other eCommerce professionals.
What are the main business challenges at Salomon?
Thibault: "We're working on an important global transformation for Salomon at the moment. Until very recently, we had a B2B-focused business model with a strong network of retailers to market our products, particularly for skiing. However, thanks to the rise of digital, we're now focused on developing our D2C (direct-to-consumer) strategy within our own stores.
This is a hugely transformational challenge for us as our entire production and marketing chain needs to be 100% consumer-friendly. Our eCommerce site is therefore at the heart of this strategy, and we have big goals and ambitions to ensure digital represents the largest share of revenue in the future.
To achieve this goal, we need to provide the smoothest online experience possible. Without a flawless customer experience, we will not achieve our D2C goal."
Marta: "Absolutely. The eCommerce team is central to success. We also have growth objectives in China, Europe, and North America—with eCommerce sitting at the heart of this growth."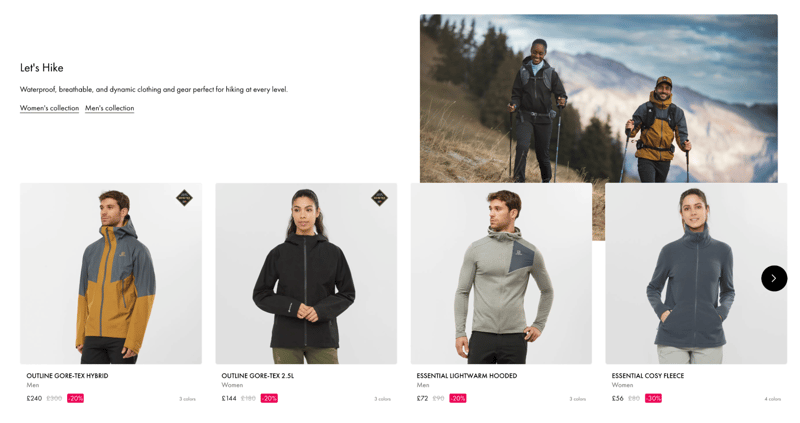 How do you define a flawless customer experience online?
Thibault: "A high-performance, fast, and bug-free site; an excellent consumer experience with real monitoring; and a relationship program.
We're also one of the only brands to offer such a huge variety of products. Even with such an expansive product catalog, the user should be able to navigate easily. We must ensure we're offering each of our customers the best online experience possible while maintaining our reputation as a sports equipment specialist."
Marta: "Although Salomon is extremely well-known to its core consumers, our audience is now diversifying. With a range of sport styles and multisport clothing, we're now looking to reach new, urban consumers. Our goal is to expand our target audience without losing our brand DNA—that's what a strong customer experience means to us!"
How do you prepare for the launch of each new collection?
Marta: "There are several stages. Before each collection launch, I start by preparing a global sales promotion calendar which I share with each region to adapt for their local markets. We define the key messages, the necessary activations, and everything that'll help develop the reputation of our brand. We also create a roadmap that defines the key moments of each collection.
Once the calendar has been created, our merchandising team creates a toolbox for each launch, including the assets, visual content (video, photo, etc.), the editorial line (which is unique for each campaign), and the entire digital experience (dedicated site, homepage, landing page, list pages, product pages, etc.). It's important to put the product at the center of every new launch."
Thibault: "Our product catalog is very varied, so we have to make sure each product is well represented. For example, the specific product highlights and benefits are different for every product. During the launch, there are always challenges, such as supply chain management due to shortages or late products. This requires great agility which means we constantly have to adjust our activation schedules.
Another very important stage is validation. Our goal is to launch campaigns as smoothly as possible, so our users should see no changes to the site and no error or maintenance messages. This stage is essential and on an ongoing basis."
Marta: "The final check following launch needs to be systematic to provide a best-in-class experience. This is a good practice that we apply to every product launch."
What advice would you give your peers when launching new products or new collections?
Thibault: "Anticipate and be agile. You can plan everything, but there will always be unforeseen events. You have to have a mindset of continuous optimization and adjustment because every campaign is different. So, I recommend analyzing and taking a step back; the learnings will help you adapt better in the future."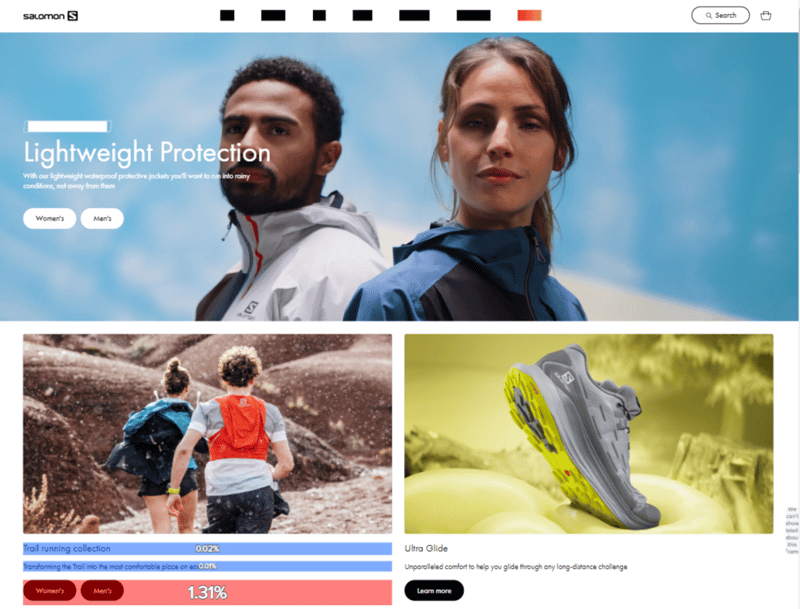 Once launched, how do you analyze the performance of your campaigns?
Marta: "We've been using Contentsquare for three years and onbaord each new team member to the platform immediately. We use monthly and seasonal reports, and we always keep an eye on the Contentsquare dashboards. This means we're able to monitor all of our collections, measuring key metrics such as engagement and conversion rate across all pages.
By analyzing the data, we can understand the performance of our campaigns which informs which AB tests we prioritize. We can then test and closely analyze the performance of each optimization. Staying focused on data makes it possible to detect points of friction in our navigation, which helps to justify the changes in conversions we might be seeing on the site.
Thibault: "On the European side, we need to personalize the experiences because different countries have different purchasing habits. This is where Contentsquare helps us a lot. We track engagement differences by country to build a more personalized and culturally-aligned content experience. For example, we know that we can push cross-country skiing in Finland in December but not in Spain where we'll promote hiking products instead."