Getting personal
"Historically, we've had a broad-brush approach to our sites and the content and campaigns that we run," admits Helen. "But we know that needs to change."
By analyzing data from new markets, the team at Sweaty Betty can see huge differences in customer behavior across markets already. For example, they've found bounce rates in the US and Ireland are higher than in the UK, and conversion rates in the US are much lower.
Unable to rely as heavily on word of mouth as in the UK, these discrepancies with buying behavior are unsurprising—and demonstrate a common issue for brands when expanding into new markets.
So what tactics did Sweaty Betty employ to try and improve their metrics in the US?
Halle Berry: The perfect campaign to test
Sweaty Betty's campaign with Halle Berry earlier this year was a prime opportunity for digital testing. "Our main objective was to build brand awareness [in the US]. And with such high volumes of traffic, we could start to explore and experiment with our content," explains Helen.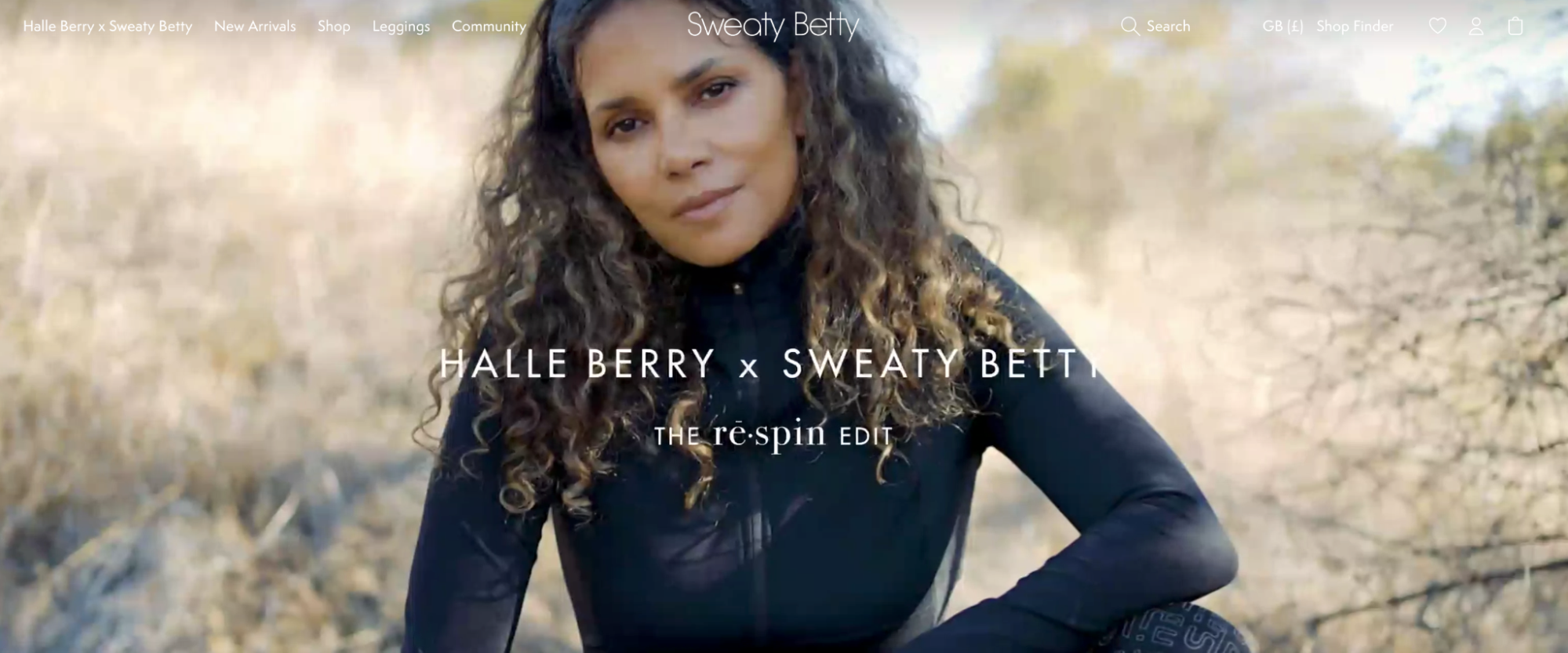 So instead of sending customers to the product landing page (PLP) directly, the team tested sending US-based users on an "exploratory journey" of Sweaty Betty first. "We wanted to help new US customers understand not only why they should pick our products, but also who we are as a brand and what we stand for," Helen says.
"It was a risk because we sent a lot of our traffic through creative landing pages rather than into our previously highest converting pages such as the PLP." But with less brand recognition in the states and the need to educate customers on Sweaty Betty's values and benefits, the team thought it was a tactic worth testing—especially now they could closely analyze results with Contentsquare.
And it turned out to be a risk worth taking.
Removing the guesswork with Contentsquare
"It turns out the pages that included storytelling and video content [such as creative landing pages and video blogs] contributed towards an 8% increase in our US conversion rates, qualifying our hypothesis that video and storytelling content resonates for our US customers," says Helen.
Using Contentsquare's in-depth engagement analytics, the team could see exactly how consumers were interacting with their new landing pages. Also, by analyzing the scroll depth of their US audience, they realized early on that some of the pages were too long, with the creative often outbalancing the key CTAs.
"Our US users don't have the same scroll depth as other markets," says Helen. "So thanks to Contentsquare, we could make data-driven decisions about where we placed our CTAs and creative. And we saw a big difference in user behavior since making those tweaks—almost immediately."
As well as moving converting content higher up the page, the team included more user-generated content (UGC) having noticed a +23% conversion rate on pages containing customer photos, through Contentsquare's Zoning Analysis.
"It was a great opportunity to build brand awareness and drive traffic. We were able to take some of these asset-based tactics and start to explore how we could positively affect behavior for our US customer base," says Helen.
The team then took the customer insights gleaned from Contentsquare to optimize their second Halle Berry launch. "On the landing page, for example, we're going to cut the overall content down but move the video content up and prioritize it in the journey". Why? Because Contentsquare has shown them that this is what works for their US audience.
Testing gamification
Sweaty Betty's second most successful campaign this year was Insider Week. "Every day, we drove customers to a landing page to see how they reacted to a different offer. We focused on gamification, such as a Wheel of Fortune, which we found resonated with our US customers," says Helen. "We used Contentsquare every day to understand customer behavior and tweak our tactics accordingly."
Also part of Insider Week was an offers page full of Sweaty Betty's partnerships. "Again, Contentsquare's Zoning feature helped us understand what worked and what didn't work," explains Helen. They found their US customers were most attracted to their partners' beauty offers—but these content assets were much further down the offer page.
"Exposure rate [on these offers] was pretty low", says Helen. The learning? To better engage their US audience during Insider Week, they should move their beauty offers higher up their pages to increase conversion rates.
Without Contentsquare, the team would be unable to see the conversation rates of individual assets on the landing page, and any optimizations would have largely been trial and error and guesswork.
Content and behavior
As Helen mentioned before, converting their US customers remains a sticking point for Sweaty Beaty. "Our bounce rate and exit rate on the homepage is nearly double for our US audience. And we believe that's down to relevant content and brand awareness," says Helen.
The team knows their US customer base is more driven by promotions than other markets—a tactic they've seen great success with already. So the team's newest challenge is balancing the scales. How can they create less reliance on discounts and promotions, yet continue to drive revenue?
The answer is an in-depth understanding of their US customers and a dedicated effort to optimize their website in line with their findings.
"We've found that US customers are much less interested in sustainability than UK and APAC markets, which is interesting. Typically, we push our sustainable products quite a lot, but with this new insight we can tweak our content so it's relevant to US markets," says Helen.
The same goes for using a variety of models. "Our US customers have reacted well to different size models and more inclusive campaigns" so this is something Sweaty Betty will continue to push in the states.
"Contentsquare helped us qualify our hypothesis that we need to show different body types, different heights, and different ages on our site. Because we're all about empowering every single woman—and the feedback from our US audience on this content has been amazing."
So, what's next for Sweaty Betty?
"There'll be no surprise here," says Helen. "Our main focus as we move into peak season is on personalization and regionalization. For example, if I like yoga and I'm five foot four, then what leggings are going to help me on that journey?" explains Helen. For Sweaty Betty, it's all about giving the customer a journey that's tailored perfectly for them. The perfect fit.